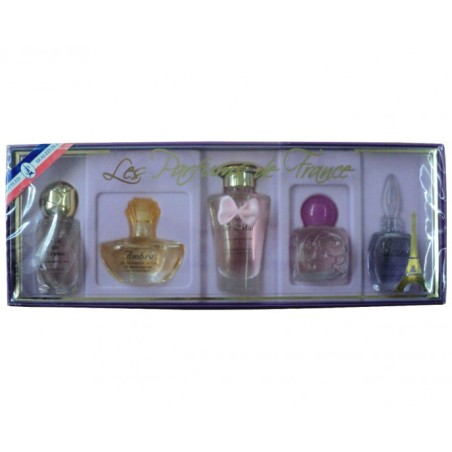  
Fragrances from France - 5 bottles
Discover the quintessence of French fragrances with our "Fragrances from France" collection. In an elegant box, you'll find 5 emblematic bottles. Choose between our two selections: a red box with passionate nuances or a blue box evoking French sweetness. An olfactory symphony in miniature, to take everywhere.
100% secure payment
with Stripe and Paypal
Free delivery from 50€ onwards
of purchase in metropolitan France
Fast delivery
orders prepared with care and shipped quickly
Travel to the heart of Parisian lanes and let yourself be enchanted by the authenticity of  "Fragrances from France". Each carefully designed box contains 5 perfume bottles, depicting the olfactory portrait of France. The red box reveals the fiery secrets of Lonia and Folie de Femme, while Orient evokes the mysteries of the East. Madame Charrier and Miss Charrier embody Parisian elegance. If your heart is set on the blue box, take a deep breath of Air de France, pure and invigorating. Ambre transports you into its gentle embrace, Reine de Mai seduces you with its floral notes, while Mon Otage plays the card of intense seduction and Gerine caresses you with its freshness. Measuring 22 cm wide and 8 cm high, each box is the perfect setting for these precious fragrances. A true olfactory voyage through the richness of French scents.
No customer reviews for the moment.
4 other products in the same category: