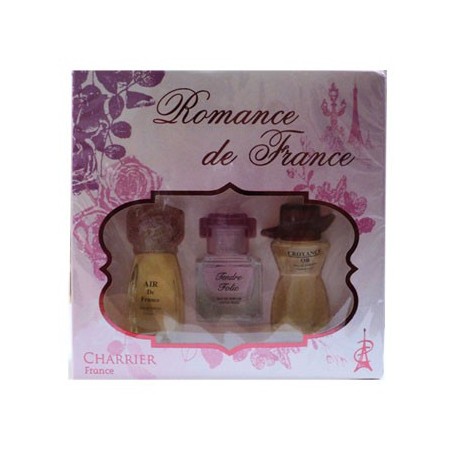  
Perfumes Romance de France
Discover the "Romance de France" perfume trilogy for women. A veritable olfactory voyage through Paris, offered by Charrier France, master perfumer since 1888. Three elegant essences for three facets of Parisian femininity. Made in France!
100% secure payment
with Stripe and Paypal
Free delivery from 50€ onwards
of purchase in metropolitan France
Fast delivery
orders prepared with care and shipped quickly
Let yourself be seduced by the magic of "Romance de France", an exquisite collection of three fragrances for women, expertly crafted by Charrier France, an iconic perfume house since 1888. Each bottle evokes a timeless memory of Paris:
Air de France (11.5 ml) - A captivating blend of aldehydes and floral notes, for the mysterious woman who walks proudly along the Seine, a secret in her eyes.
Tendre Folie (10.1 ml) - A soft, fresh fragrance, combining the delicacy of rose with a light breeze, for the carefree damsel dancing in the rain at Montmartre.
Croyance Or (12 ml) - An exquisite floral fragrance for the ultra-feminine, reminiscent of elegant evenings at the Opéra Garnier.
With a total capacity of 33.6 ml, this collection is beautifully presented in a refined 14 cm box, evoking Parisian charm and sophistication. An authentic, elegant souvenir, made with love and pride in France.
No customer reviews for the moment.
4 other products in the same category: