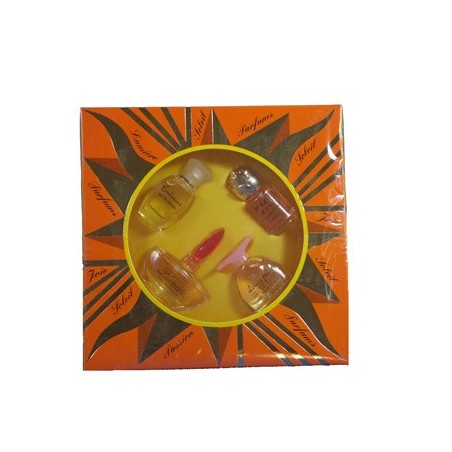  
Perfumes and Sunshine
Discover the quintessence of Paris with the "Parfums et Soleil" box. Four women's fragrances by Charrier France, an exceptional perfumer since 1888. Sublimate your essence with "Endorras", "Magic Rose", "Flanade" and "Douce Faute". French elegance, encapsulated in a 14 cm box. Made in France!
100% secure payment
with Stripe and Paypal
Free delivery from 50€ onwards
of purchase in metropolitan France
Fast delivery
orders prepared with care and shipped quickly
Let yourself be transported to the sunny streets of Paris, where each fragrance tells a story of love, passion and elegance. With over a century of experience, Charrier France presents its "Parfums et Soleil" selection - a limited-edition olfactory treasure trove.
"Endorras" evokes a twilight stroll along the Seine, mysterious and captivating. "Magic Rose" is the essence of the Parisian rose, fresh as morning dew and soft as a caress. Put on a drop of "Flanade" and you'll find yourself strolling through the cobblestone streets, feeling the charm and romance of the city. And finally, "Douce Faute" is an ode to Parisian audacity, an intriguing blend of innocence and seduction.
Each bottle is meticulously crafted and presented in an elegant 14 cm box, making this set the perfect gift or essential addition to your collection. And let's not forget: these olfactory masterpieces are proudly made in France, guaranteeing unrivalled quality and authenticity.
No customer reviews for the moment.
4 other products in the same category: