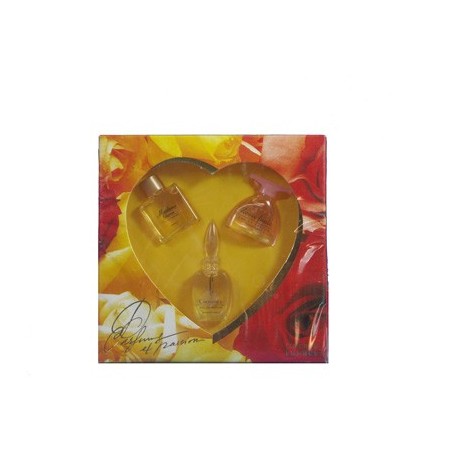  
Perfumes and Passion
Discover "Parfums et Passion", an exclusive collection of three fragrances for women by Charrier France, master perfumers since 1888. Elegant box containing unique fragrances: "Madame Charrier", "Croyance" and "Douce Faute", total 12.7 ml. An olfactory journey to the heart of Paris, in the blink of an eye. Made in France.
100% secure payment
with Stripe and Paypal
Free delivery from 50€ onwards
of purchase in metropolitan France
Fast delivery
orders prepared with care and shipped quickly
Immerse yourself in the captivating world of Charrier fragrances, where each scent tells a story. From a perfume house renowned since 1888, the "Parfums et Passion" collection transports you to the romantic streets of Paris.
Madame Charrier" (5 ml) embodies Parisian elegance, a blend of tradition and modernity. "Croyance" (4.9 ml) evokes mystery and depth of feeling, a tribute to the urban legends of the City of Light. As for "Douce Faute" (2.8 ml), it will surprise you with its rebellious sweetness, reminiscent of nocturnal escapades near the Seine.
Presented in a delicately designed box 14 cm high and wide, these fragrances are not only a delight for the nose, but also a feast for the eyes. Made in France, they reflect French excellence and savoir-faire. Treat yourself or someone you care about to a slice of Parisian heritage.
No customer reviews for the moment.
4 other products in the same category: