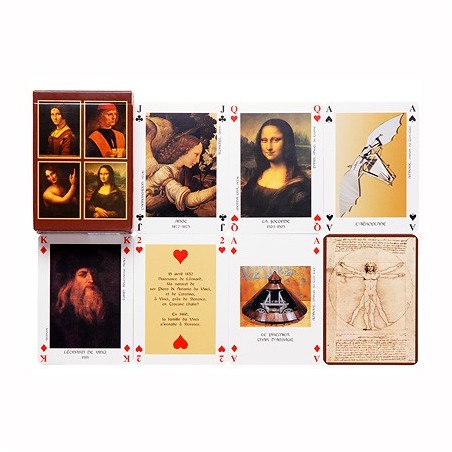  
"Leonard Da Vinci" card game
Immerse yourself in the world of Leonardo Da Vinci with this set of 54 collectible cards. From the Mona Lisa to major inventions, discover the legacy of this Renaissance genius. Made in France, it's the ultimate souvenir of Paris.
100% secure payment
with Stripe and Paypal
Free delivery from 50€ onwards
of purchase in metropolitan France
Fast delivery
orders prepared with care and shipped quickly
The "Leonardo Da Vinci" card game is not just a card game. It's an immersion into the fascinating world of the great Renaissance master. While the Mona Lisa, one of his iconic works, sits proudly in the Louvre, did you know that Da Vinci spent the last years of his life in France, even serving Francis I?
Each card in this game is a window on history. The Aces highlight Da Vinci's revolutionary inventions, the Kings his introspective self-portraits, the Queens reveal elegant portraits of the ladies of the time, and the Jacks the striking portraits of the men. The ordinal cards, meanwhile, guide you through the key dates of his life, reminding you of his genius with every turn.
Designed and manufactured in France, this card game is much more than just a game. It's a piece of history, a collector's item, and the perfect souvenir for anyone wishing to take home a piece of Paris and its cultural heritage.
No customer reviews for the moment.