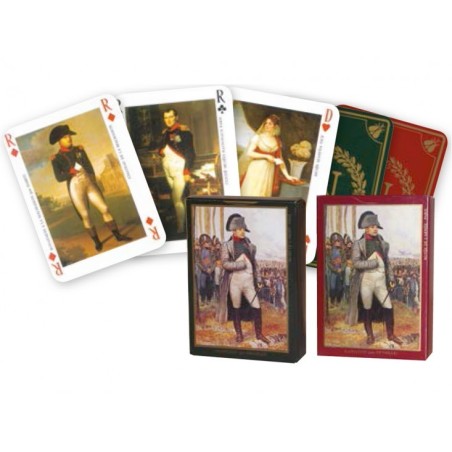  
"Napoleon 1st" card game
Immerse yourself in French history with the "Napoleon 1st" card game. A unique collection of 54 cards, each illustrated with authentic historical paintings from the Napoleonic era. Made in France, this deck is the perfect souvenir to relive the defining moments of Paris and its history.
100% secure payment
with Stripe and Paypal
Free delivery from 50€ onwards
of purchase in metropolitan France
Fast delivery
orders prepared with care and shipped quickly
Did you know that the history of France could be held in your hand? The "Napoleon 1er" card game is more than just a game, it's an immersion in a revolutionary era. Each card has been carefully designed to reflect a specific moment in the life of Emperor Napoleon Bonaparte and the key figures who surrounded him.
With the Kings, follow Napoleon's journey from his early years to his apogee. The Queens reveal the crucial role played by women in his life, while the Jacks honor his most trusted generals such as Murat and Ney. Not forgetting the Aces, which take you to the heart of the most decisive battlefields, and the ordinal cards marked with key dates.
Each painting comes from France's prestigious national museums, guaranteeing unrivalled authenticity. And as a nod to history, this game is proud to be made in France, cradle of the Napoleonic legend.
Whether you're a history buff, looking for the perfect Parisian souvenir or simply a lover of fine objects, this game is a must-have collector's item. Give it as a gift or treat yourself to an unforgettable journey back in time.
No customer reviews for the moment.