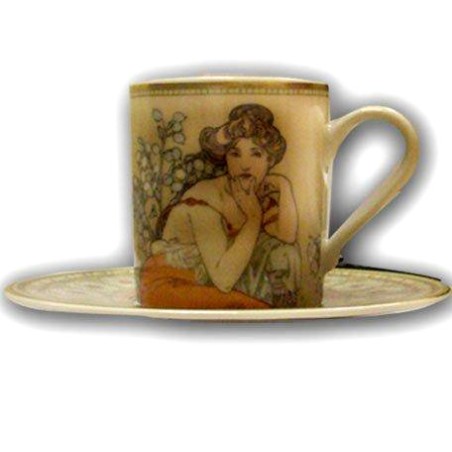  
Coffee cup "Topaz" Alfons Mucha
Discover the quintessence of Parisian art with our Alfons Mucha "Topaz" coffee mug. This espresso cup, illustrated with Mucha's famous work, is the ideal souvenir to relive the artistic essence of Paris with every sip.
100% secure payment
with Stripe and Paypal
Free delivery from 50€ onwards
of purchase in metropolitan France
Fast delivery
orders prepared with care and shipped quickly
Soak up art nouveau at every coffee break with our Alfons Mucha "Topaz" Coffee Mug. Reproducing Alfons Mucha's famous work "La Topaz", this exquisite espresso cup is much more than just a kitchen utensil. It's a journey back in time to the golden era of Parisian art, a time when every curve and color told a story. With a saucer diameter of 10 cm, it offers a comfortable grip while ensuring stability. The fine details printed on this cup reveal beauty and elegance, making it a collector's item as well as a memorable souvenir of the City of Light. Whether you're an art lover or a Paris enthusiast, this mug will enrich your coffee experience while adding a touch of elegance to your souvenir collection.
No customer reviews for the moment.
5 other products in the same category: