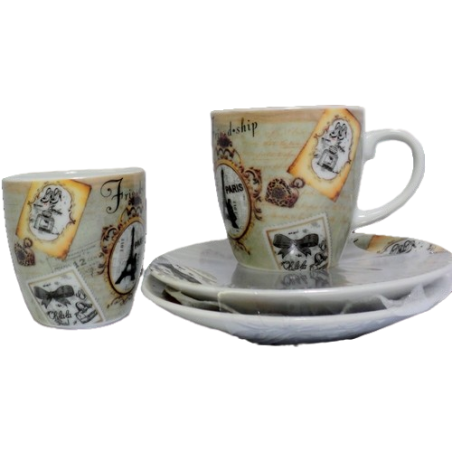  
Coffee set "Oh là là Paris"
Discover the magic of Paris at every coffee break with the "Oh là là Paris" coffee set. This elegant duo of white porcelain cups, adorned with splendid illustrations of Paris' iconic monuments, promises to transform your daily ritual into a Parisian getaway. Choose from a variety of styles and colors to personalize your experience. Presented in a chic cardboard case, this set is perfect as a gift or to add a touch of French charm to your table.
100% secure payment
with Stripe and Paypal
Free delivery from 50€ onwards
of purchase in metropolitan France
Fast delivery
orders prepared with care and shipped quickly
Awaken your senses and let yourself be transported to the heart of the City of Light with our exclusive "Oh là là Paris" coffee set. It's not just a set of coffee cups, it's a celebration of French art de vivre, a true ode to the cobblestone streets, historic monuments and timeless elegance that define Paris.
Each set consists of two cups and matching saucers, made from the finest white porcelain. But what really sets them apart are the delicate, artistic illustrations depicting the Eiffel Tower, Arc de Triomphe, Notre-Dame and other Parisian wonders, capturing the essence of the city with every line and curve.
As you sip your coffee, let each sip remind you of strolls along the Seine, afternoons at the Musée d'Orsay, or evenings lit by the glow of the Eiffel Tower. With the "Oh là là Paris" coffee set, every tasting moment is a small celebration of the beauty and romance of Paris.
No customer reviews for the moment.
5 other products in the same category: