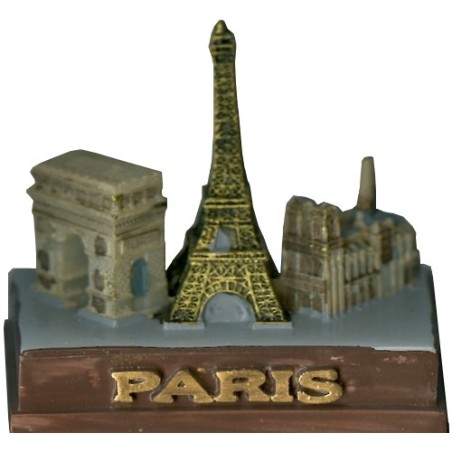  
Three Monuments in resin
Capture the essence of Paris with our trio of iconic monuments in resin! On a base marked "Paris", the Eiffel Tower, Notre-Dame and the Arc de Triomphe blossom with finesse and detail. Available in two sizes to suit your space.
100% secure payment
with Stripe and Paypal
Free delivery from 50€ onwards
of purchase in metropolitan France
Fast delivery
orders prepared with care and shipped quickly
Immerse yourself in the heart of Parisian romance with our set of three carefully sculpted resin monuments. Each piece faithfully recreates the majesty and charm of the Eiffel Tower, the Gothic splendor of Notre-Dame de Paris and the triumphal grandeur of the Arc de Triomphe. Mounted on an elegant base bearing the inscription "Paris", these miniatures will instantly transport you to the bustling streets and welcoming bistros of the City of Lights. Whether you're a travel enthusiast or simply looking for the perfect gift for a lover of French culture, this set is the ideal choice. Dimensions are available in two sizes, allowing flexibility of display on your desk, shelf or side table.
No customer reviews for the moment.
3 other products in the same category: