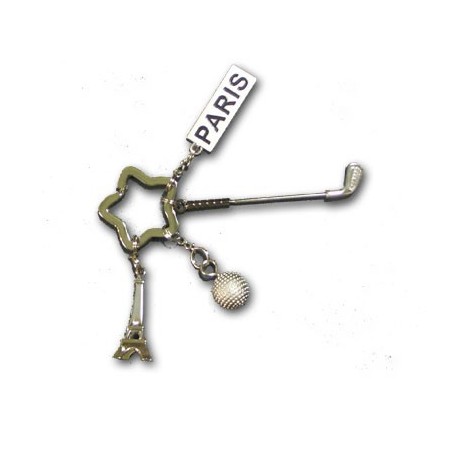  
Golf key ring
Immerse yourself in the magic of Paris while celebrating your passion for golf with this unique key ring. Discover the Eiffel Tower, the word "Paris", a club and a golf ball, all in an elegant silver color.
100% secure payment
with Stripe and Paypal
Free delivery from 50€ onwards
of purchase in metropolitan France
Fast delivery
orders prepared with care and shipped quickly
When Parisian elegance meets golfing passion, you get this exceptional key ring. An everyday object that unites two worlds: the majesty of the Eiffel Tower and the intensity of a round of golf. Carefully designed, each element reflects a love for the City of Light and the sport of kings. Its shimmering silver color recalls the twinkling lights of Paris at night. Measuring 10 cm, this key ring features pendants representing a golf club, a ball, the Eiffel Tower and the word "Paris". More than just an accessory, it's an invitation to remember unforgettable moments spent in Paris, or to dream of your next game on the Parisian greens.
No customer reviews for the moment.
16 other products in the same category: