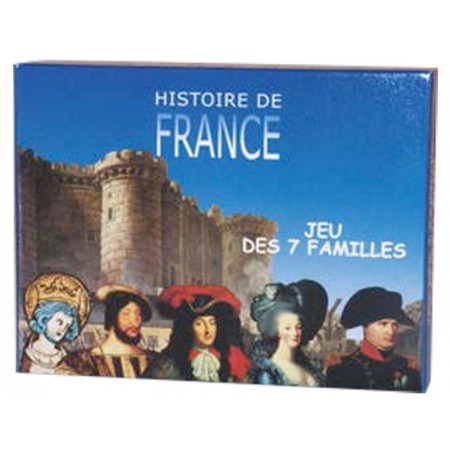  
7 families game - History of France
Immerse yourself in French history with the 7 Families game, from the time of the Celtic Gauls to the splendor of the First Empire. An educational, entertaining and captivating journey awaits you!
100% secure payment
with Stripe and Paypal
Free delivery from 50€ onwards
of purchase in metropolitan France
Fast delivery
orders prepared with care and shipped quickly
Discover French history as you've never seen it before with our "7 Families Game - French History". You'll embark on a journey through the ages, starting with the daring Celtic Gauls, through the magnificence of the Romanesque and Gothic eras to the golden age of the Renaissance. Relive the intrigues of the Ancien Régime, feel the passion of the Revolution and end your journey with the grandeur of the First Empire. Each family is finely illustrated to reflect the essence of each era. The game, while fun, is also an excellent educational tool for teaching and reliving our nation's most defining moments. Included with the game are simplified rules for quick learning. It's more than just a game, it's an emotional and cultural experience, a souvenir of Paris that will stay with you for a long time.
No customer reviews for the moment.