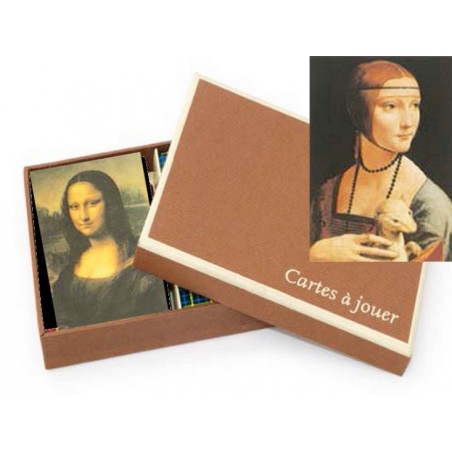  
Luxury "Leonardo Da Vinci" Card Game Set
Succumb to the elegance of the Leonardo Da Vinci Deluxe Playing Card Set. Two 54-card decks featuring the masterpieces "La Joconde" and "La Dame à l'Hermine". Made in France, an ideal collector's item for Paris and art lovers.
100% secure payment
with Stripe and Paypal
Free delivery from 50€ onwards
of purchase in metropolitan France
Fast delivery
orders prepared with care and shipped quickly
Immerse yourself in the masterly world of Leonardo Da Vinci with our Luxury Card Game Box Set. Each box, carefully crafted in fluted cardboard, contains two distinct decks of cards that will delight art lovers and card game enthusiasts alike. On the reverse of each card, let yourself be carried away by the timeless beauty of two of Da Vinci's most emblematic paintings: "La Joconde", that mysterious face that has fascinated the world for centuries, and "La Dame à l'Hermine", a sublime representation of grace and elegance. These cards are not just a way to play, but an invitation to travel through the history of art. Every time you use them, you'll be holding a fragment of Da Vinci's genius, all proudly made in France. It's the perfect gift to remember the charms of Paris and the art treasures it holds.
No customer reviews for the moment.