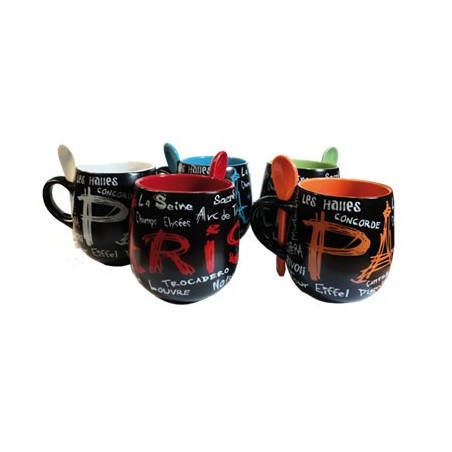  
Signature color mini mug with spoon
Discover our modern Mini Mug with spoon, adorned with elegant designs and text evoking the charms of Paris. In black contrasting with bright colors, it's the perfect souvenir for all lovers of the City of Light.
100% secure payment
with Stripe and Paypal
Free delivery from 50€ onwards
of purchase in metropolitan France
Fast delivery
orders prepared with care and shipped quickly
Enjoy a piece of Paris with every sip with our elegant Mini Mug. A modern design for those who want to take a piece of Parisian magic home with them. The deep black mugs are beautifully adorned with brightly colored drawings and text, evoking the very essence of Paris. Every detail, from the mug to the spoon, is designed to immerse you in the Parisian atmosphere, even thousands of kilometers away. The spoon and the inside of the mug add an extra touch of color, making this souvenir as aesthetic as it is practical. Measuring 8.50 cm high and 5.50 cm in diameter, this mini mug is the ideal companion for your moments of relaxation. What's more, its sturdy design makes it suitable for both dishwasher and microwave, combining aesthetics and functionality.
No customer reviews for the moment.
3 other products in the same category: