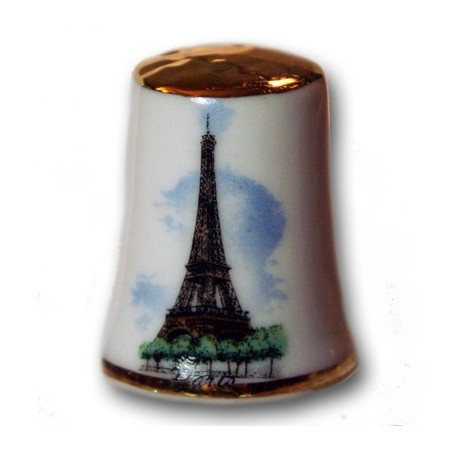  
Eiffel Tower thimble golden head
Immerse yourself in the essence of Paris with our gold-headed Eiffel Tower thimble. Made of delicately colored white porcelain, this unique piece evokes all the charm of Paris, while being functional at the same time.
100% secure payment
with Stripe and Paypal
Free delivery from 50€ onwards
of purchase in metropolitan France
Fast delivery
orders prepared with care and shipped quickly
Nothing evokes the magic of Paris like the Eiffel Tower. With our golden-headed Eiffel Tower thimble, you can now take a piece of that magic with you, into your sewing projects. Made from quality white porcelain, this thimble features an artistic and colorful representation of the Eiffel Tower, reminiscent of street cafés, musicians on street corners and the hustle and bustle of Parisian life. But that's not all! The thimble's golden tip adds a touch of elegance and luxury, making this object not only a sewing tool, but also a magnificent souvenir of Paris. Whether you're a sewing enthusiast or looking for the perfect gift for a loved one, this thimble is a treasure to cherish. Measuring 2.50 x 2.50 cm, it's compact enough to store in a sewing box and still make a lasting impression.
No customer reviews for the moment.