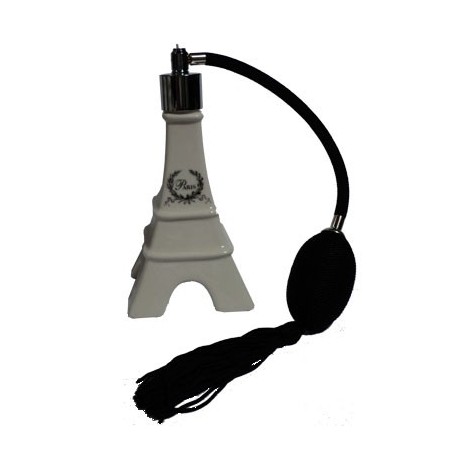  
Perfume spray Eiffel Tower
Looking for an elegant Parisian touch in your everyday life? Discover our Eiffel Tower Perfume Spray - a chic symbol of French art de vivre, encased in refined white porcelain. With its 13.5 cm of romanticism, this accessory is not just an objet d'art, but an olfactory celebration of love and beauty.
100% secure payment
with Stripe and Paypal
Free delivery from 50€ onwards
of purchase in metropolitan France
Fast delivery
orders prepared with care and shipped quickly
Imbue your world with irresistible French charm with our exquisite Eiffel Tower Perfume Spray. Designed with meticulous attention to detail, this white porcelain masterpiece stands 13.5 cm tall, embodying the grandeur of the Eiffel Tower. Each spray is a sensory journey into the heart of Paris, where the laurel-framed inscription "Paris" reminds you of the majesty of the City of Light.
The iconic silhouette of the Eiffel Tower not only captures the spirit of Paris, but also transforms your beauty ritual into a ceremony rich in meaning and history. It's much more than an accessory - it's a collector's item that invites you to wrap your presence in an aura of elegance and sophistication. Imagine each press releasing a cloud of fragrance, as delicate as the breezes that caress the Trocadero gardens, as timeless as the cobbled streets of Montmartre.
This spray is not just a tribute to the famous Parisian silhouette, it's a bridge between art and sensoriality, an object that touches both the heart and the mind. Treat yourself or a loved one to this porcelain jewel, and let each use be a snapshot of the infinite romance of Paris.
No customer reviews for the moment.