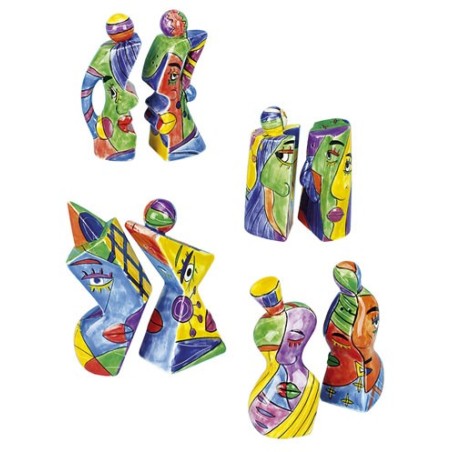  
Salt and Pepper shakers Muzeum Collection
Revive your table with a touch of art! Our "Muzeum" Collection brings a functional work of art to your kitchen. Inspired by Picasso's dynamic shapes and bright colors, these salt and pepper shakers are not just utensils, but real conversation starters. Perfect dimensions of 11/12 cm for easy handling and a discreet yet remarkable presence.
100% secure payment
with Stripe and Paypal
Free delivery from 50€ onwards
of purchase in metropolitan France
Fast delivery
orders prepared with care and shipped quickly
The "Muzeum" Collection isn't just a practical choice for your salt and pepper, but a true foray into the world of art, right on your table. Each salt and pepper shaker set is designed with inspiration drawn from Picasso's masterpieces - boldly blending shapes, contours and palettes to transform every meal into a private art exhibition.
Made from high-quality porcelain, these 11/12 cm pieces are both sturdy and elegant, fusing aesthetics with functionality. The size is ideal for a comfortable grip, yet compact enough for a chic, clutter-free table.
This set is a tribute to innovation and creativity, making every moment spent around the table a celebration of French art de vivre. Whether you're looking to spice up a dinner conversation or add a splash of color to your décor, the "Muzeum" Collection transforms the everyday into the extraordinary. With their eye-catching design, these pieces captivate the eye and stimulate the imagination, inviting you on a journey to the heart of modern art.
No customer reviews for the moment.
Customers who bought this product also bought: