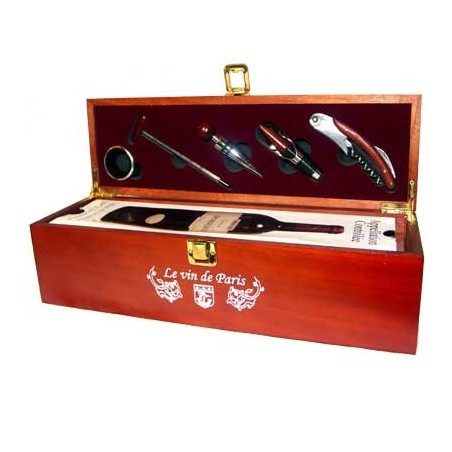  
"Le Vin de Paris" wine set
Awaken your inner sommelier with the "Le Vin de Paris" Wine Set! Prepare yourself for an unparalleled oenological experience with this elegant set that promises to sublimate every tasting experience. Ideal for amateurs and connoisseurs alike, this set is the epitome of French art de vivre.
(Please note: box sold without bottle of wine).
100% secure payment
with Stripe and Paypal
Free delivery from 50€ onwards
of purchase in metropolitan France
Fast delivery
orders prepared with care and shipped quickly
The "Le Vin de Paris" Wine set: your passport to a sensory journey to the heart of Parisian elegance.
Imagine being able to capture the very essence of Paris, with its cobbled streets lined with welcoming bistros, and transfer it to your living room. That's exactly what this magnificent wine box offers. From the moment you open the "Le Vin de Paris" set, you're invited to a ceremony of taste, where every accessory is a promise of pleasure and discovery.
Chiselled for epicureans, this set is your accomplice for optimal tasting. The anti-drip ring and pouring spout ensure impeccable service, while the thermometer whispers the secret of the ideal temperature. The sommelier is the key to releasing the aromas and flavors of your favorite bottles, and the cork preserves the freshness of your wine between moments of delight.
Every element of this box has been designed to enhance your finest bottles, those you save for special occasions or like to share with friends. It's a tribute to winemaking traditions, a touch of sophistication that transforms every tasting into an unforgettable experience.
With the "Le Vin de Paris" Gift Set, you're not just giving your wines a showcase, you're celebrating the quintessence of French wine culture, right here at home.
No customer reviews for the moment.