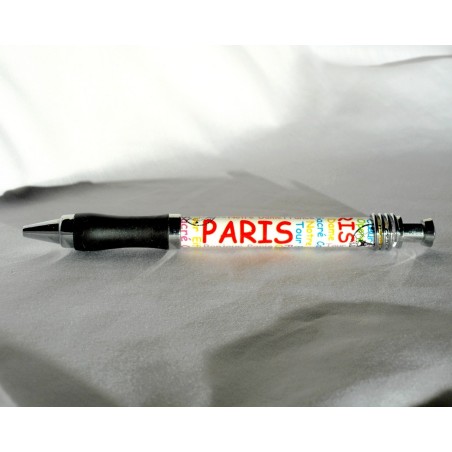  
Paris writing pen
Capture the essence of the City of Light with the Paris writing pen, an elegant tribute to Paris' iconic architecture. Choose from a classic black, pure white or vibrant fuchsia background and let the city's famous monuments guide your pen. With flowing black ink and an ideal length of 14 cm, this pen is not just a writing instrument, but a piece of Paris to hold between your fingers.
100% secure payment
with Stripe and Paypal
Free delivery from 50€ onwards
of purchase in metropolitan France
Fast delivery
orders prepared with care and shipped quickly
Imagine scribbling your thoughts on a café terrace, under the starry Parisian sky, with the Paris writing pen - a refined creation that embodies the charm and elegance of the French capital. Each of these pens is a celebration of Paris' architectural masterpieces, delicately engraved on the colorful body of the accessory. Whether you choose the sophisticated sobriety of black, the immaculate purity of white, or the boldness of fuchsia, each color echoes the Parisian spirit of fashion and finesse. The 14 cm length ensures a comfortable grip, allowing the black ink to dance across the paper, capturing your words with precision and passion. More than just a pen, it's a bridge between your world and the living history of Paris, a souvenir that awakens the senses and invites inspiration.
No customer reviews for the moment.
5 other products in the same category:
Customers who bought this product also bought: