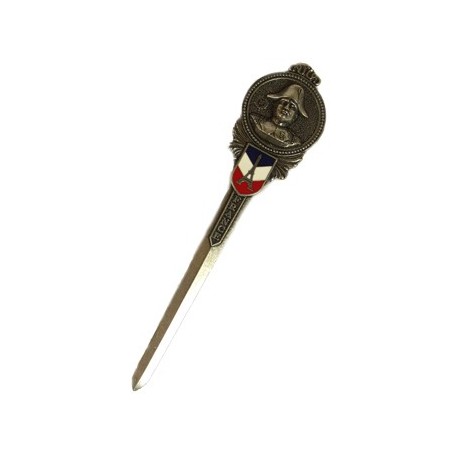  
Napoleon paper cutter
Discover the Napoleon paper cutter: a fusion of French history and elegance, adorned with a Napoleon's head in old silver metal and a coat of arms in the colors of France with the Eiffel Tower. An 18.50 cm long souvenir of Paris not to be missed.
100% secure payment
with Stripe and Paypal
Free delivery from 50€ onwards
of purchase in metropolitan France
Fast delivery
orders prepared with care and shipped quickly
Immerse yourself in the timeless charm of the City of Light with our Napoleon paper cutter. Designed for lovers of Paris and its history, this object is more than just a tool, it's a piece of art. Precision crafted, it features a magnificent Napoleon head in old silver metal, evoking the great eras of France. To add a patriotic touch, a blue, white and red coat of arms stands proudly, incorporating the iconic silhouette of the Eiffel Tower. Measuring 18.50 cm, this letter opener is both functional and decorative, making it the perfect souvenir to take a piece of Paris home with you. Let it remind you of the cobbled streets, lively cafés and grand monuments of this magical city.
No customer reviews for the moment.
4 other products in the same category: