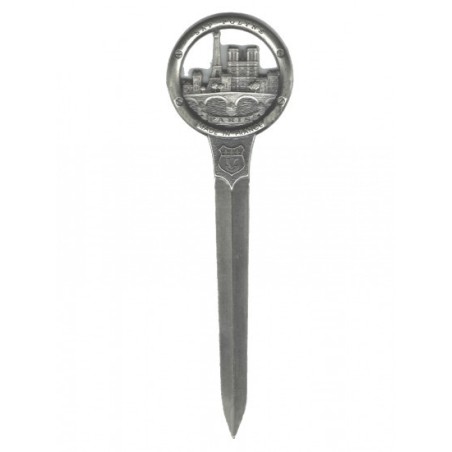  
Quays of the Seine paper cutter
Discover our "Quays of the Seine" paper cutter, a masterpiece of French craftsmanship, combining elegance with iconic symbols of Paris. Both aesthetic and functional, its design incorporates the quays of the Seine, the Eiffel Tower and Notre-Dame. An authentic souvenir of Paris!
100% secure payment
with Stripe and Paypal
Free delivery from 50€ onwards
of purchase in metropolitan France
Fast delivery
orders prepared with care and shipped quickly
Quays of the Seine paper cutter: more than just a tool, it's a journey to the heart of Paris. Every detail of this 15.50 cm paper cutter, meticulously crafted in sturdy metal, evokes the magic of the City of Light. Imagine walking along the banks of the Seine, admiring the bateaux-mouches gliding by, the majesty of the Eiffel Tower soaring into the sky, and the timeless charm of Notre-Dame watching over the city. Every time you hold this object in your hands, you'll feel the rich culture and history of Paris. Perfect for those looking to own a piece of the French capital, or to give as a memorable gift. And the best part? It's made in France, guaranteeing superior quality and unique craftsmanship.


No customer reviews for the moment.
4 other products in the same category: