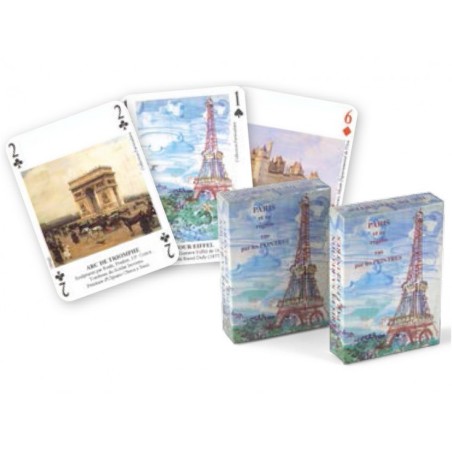  
"Paris and its region as seen by the painters" card game
Discover "Paris and the surrounding region as seen by painters" with this set of 54 collectible cards. Each card is an invitation to an artistic journey, revealing an iconic painting, its painter and its exhibition location in Paris.
100% secure payment
with Stripe and Paypal
Free delivery from 50€ onwards
of purchase in metropolitan France
Fast delivery
orders prepared with care and shipped quickly
Immerse yourself in the artistic splendor of Paris with our "Paris and its region as seen by the Painters" card game. Designed for lovers of art and the French capital, this 54-card deck is much more than just entertainment. Each card is a window onto a masterpiece, capturing the very essence of Paris through the eyes of history's greatest painters.
Each time you pick a card, you'll be transported to a Parisian museum, in front of a masterly canvas. The name of the painter, the precise location in Paris where the scene was captured and the museum where the painting is exhibited are all keys to furthering your cultural journey. It's more than a game, it's an emotional experience, an artistic stroll through time and the cobbled streets of Paris. It's the perfect gift for anyone looking for a memorable souvenir of the City of Light.
No customer reviews for the moment.
Customers who bought this product also bought: